Our Rail System
South Florida System
Our proving ground for a new way to ride
What's happening now
Our Current South Florida System
We currently operate in Florida between Miami and West Palm Beach and will be extending to Orlando. Our rail system started construction in late 2014 and commenced operations in January 2018. We opened our Miami station in May 2018 and will be opening additional stations in Boca Raton, Aventura, and Port Miami and 2020.
Boca Raton
Major business hub with multiple Fortune 500 corp HQ's
Station in core downtown district with 4 acres for real estate dev.
Aventura
Home to 2nd most visited mall in the United States
Major commuter base for Miami workforce
Port Miami
Largest cruise port in the world, major cruise line deals in place
Port infrastructure already built
Future expansion
West Palm Beach to Orlando, FL
While the Orlando station is complete, we are developing 170 miles of new track to get you there from South Florida. Construction is underway and is expected to be completed in 2022.
Located in the South Terminal at Orlando International Airport, our Orlando service is perfectly located to bring you north to discover the magic of Florida's most popular theme parks and attractions.
Future Expansion
Facts & Figures
Expected train trip is approx.

2 hours

from WPB.
Expected top speed is

125 mph

.
Project brings over

10,000+ construction jobs

Station integrated with MCO's new south terminal, including 120 new gates and the new JetBlue hub
Construction includes 1.6 million tons of granite, 750,000 tons of limestone, 225 million lbs of steel, 2 million spike & bolts, 440,000 concrete railroad ties and more.
Orlando is the

most visited city

in the US
Directly

linked to SunRail

commuter rail extension into downtown Orlando.
Market Info
Our current South Florida system
1st year ridership = 579k passengers
vs. 462k for Acela in first year
On time performance = 90%
vs. 80% for Acela
Customer satisfaction = 73 NPS1
vs. 17 for Acela2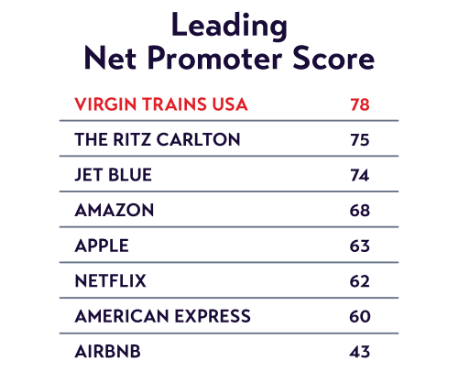 market info
Stations double as cultural destinations in the heart of downtowns
Centrally located station within a five block radius of Miami's most notable attractions
Connecting three transit systems into one, collectively moving over 30 million people this year, with proposed future connectivity to Tri-Rail for local stops
130,000 sq. ft. of retail, shopping and dining all in one place
Fully integrated with first/last mile travel solutions including a strategic partnership with Lyft for seamless pick-up/drop-off
Miami Central Station